Industries
Marketing and Advertising
The way businesses sell their products and services was drastically changed by the invention of the internet. There's a surplus of supply and more and more customers are suffering from choice overload. So how do you stand out? How do you make sure that you're giving the customer exactly what they want? The marketing and advertising industry and recruitment focus on finding an answer to this question. Increasingly, the answer is Tech.
Because of new technological developments it is possible to gather an ever-increasing amount of data and analyze it, which has a major impact on the world of marketing. All that data makes it easier to find out what people really think, identify a target audience, and develop campaigns to reach that audience. But it's not just analyzing the customer's needs that has become easier. Reaching potential buyers has also taken on different shapes. Advertising is mainly done online nowadays, through search engines, content and e-mail marketing, viral campaigns, and social media.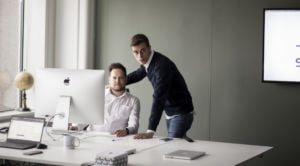 Search X Recruitment follows the latest trends and developments in the Marketing and Advertising industry closely. Throughout the years we have served a number of different clients in this sector and built a valuable network of skilled professionals.
Our clients in the Marketing and Advertising industry
DPG media, Smartspotters, Sanoma, Invicta, Bannerwise, SDIM, De Reclamefabriek, ResponseConcepts, Angry Bytes
Jobs in Marketing and Advertising
---